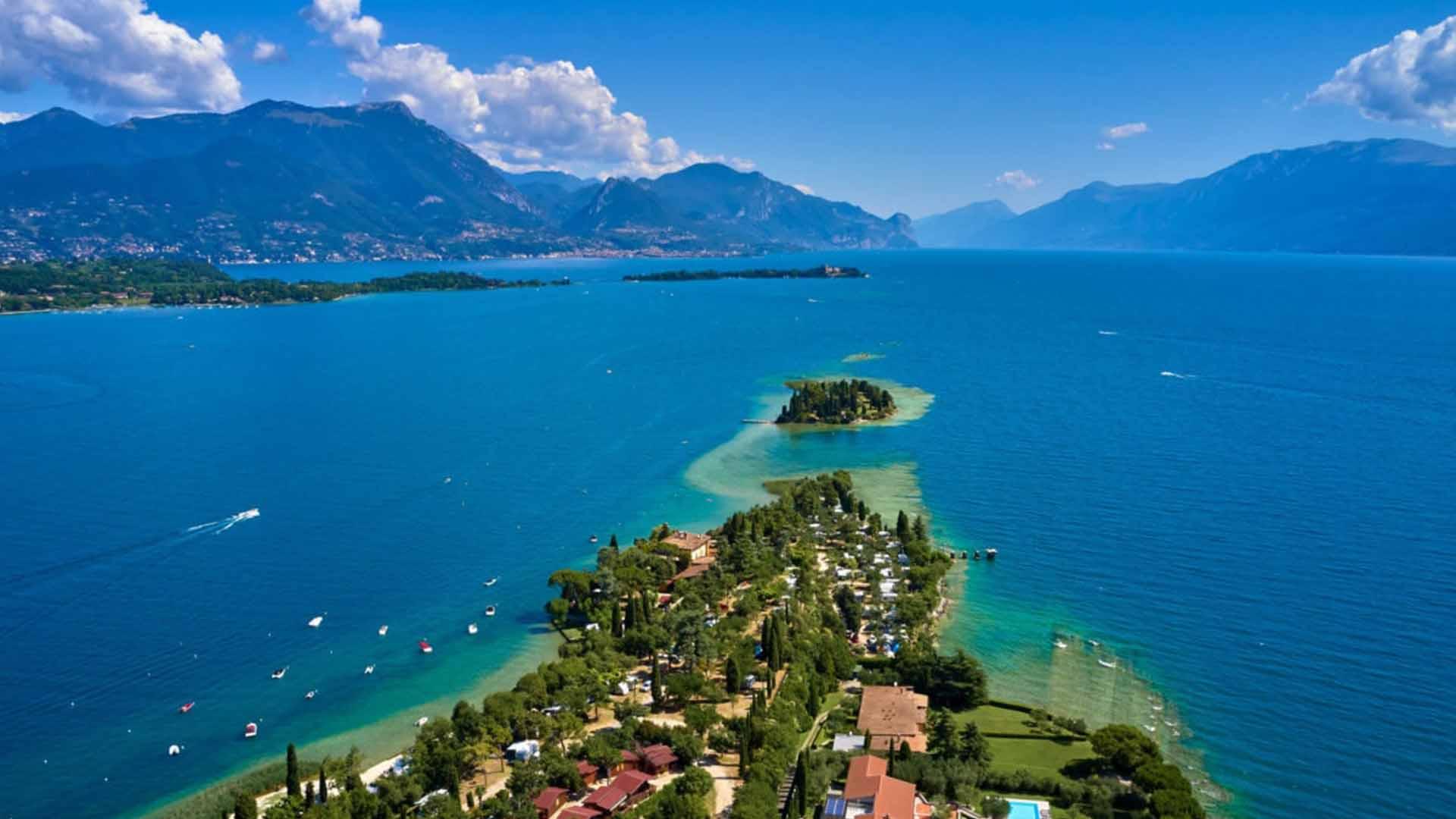 If you are undecided about which of the beautiful beaches to visit first during your vacation at Lake Garda, this is the right place for you.
In this article you'll find a list of the most beautiful beaches of Lake Garda, Italy's largest lake.
It's shores, in fact, cover three regions: Veneto, Trentino Alto-Adige and Lombardy, with 158 km of beach!
Are you ready to discover all of them? Let's begin out tour:
1. Spiaggia La Cavalla
Starting from Veneto we can find La Cavalla, a beautiful beach located to a few minutes from the centre of Garda.
This beach fits pretty much every situation: you can camp on the gravel just with your own bath towel or renting a sunbed, admiring amazing sunsets, dancing to the rhytm of the dj's music, swimming in the fresh waters of the lake.
At La Cavalla beach you'll be able to spend a tipical day at the lake, relaxing with your family, playing with your children or enjoying a delicious aperitif with your friends in one of the nearest bars, often a gathering place for young people.
Moreover, if you do not enjoy static days we suggest you to go along the lakeside promenade that goes from Garda to Bardolino, in order to find the beach spot that most fits your preferences, even on the grass, but always looking at a gorgeous lakeview.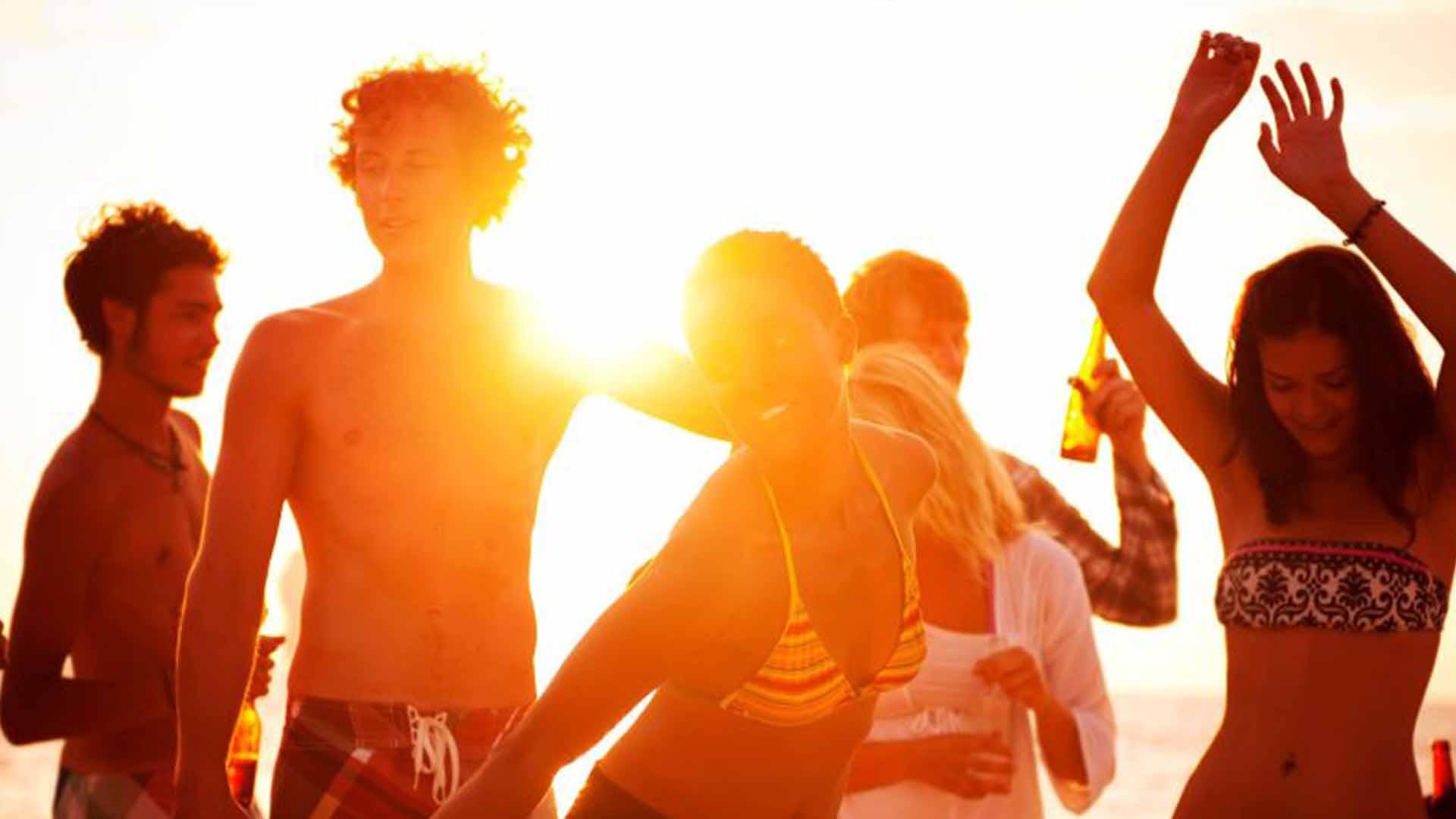 2. Parco Baia delle Sirene
Parco Baia delle Sirene, located on Punta San Vigilio, between Garda and Torri, is a small paradise for families and friends where to spend an entire day of relax at Lake Garda.
Not only it is completely surrounded in nature and one of the clearest areas of the lake, but it is also provided with two restaurant areas, a small ice-cream shop, ping-pong tables, pic-nic tables, a tv area, showers and a play area.
What else? Everything you could need to spend a beautiful day at the lake.

To enter it is necessary to buy a ticket, that includes a parking place, sunbeds, umbrellas and deck chairs. The price of the ticket lowers during the day, according to the time you decide to enter, but any option you choose, it is totally worth it.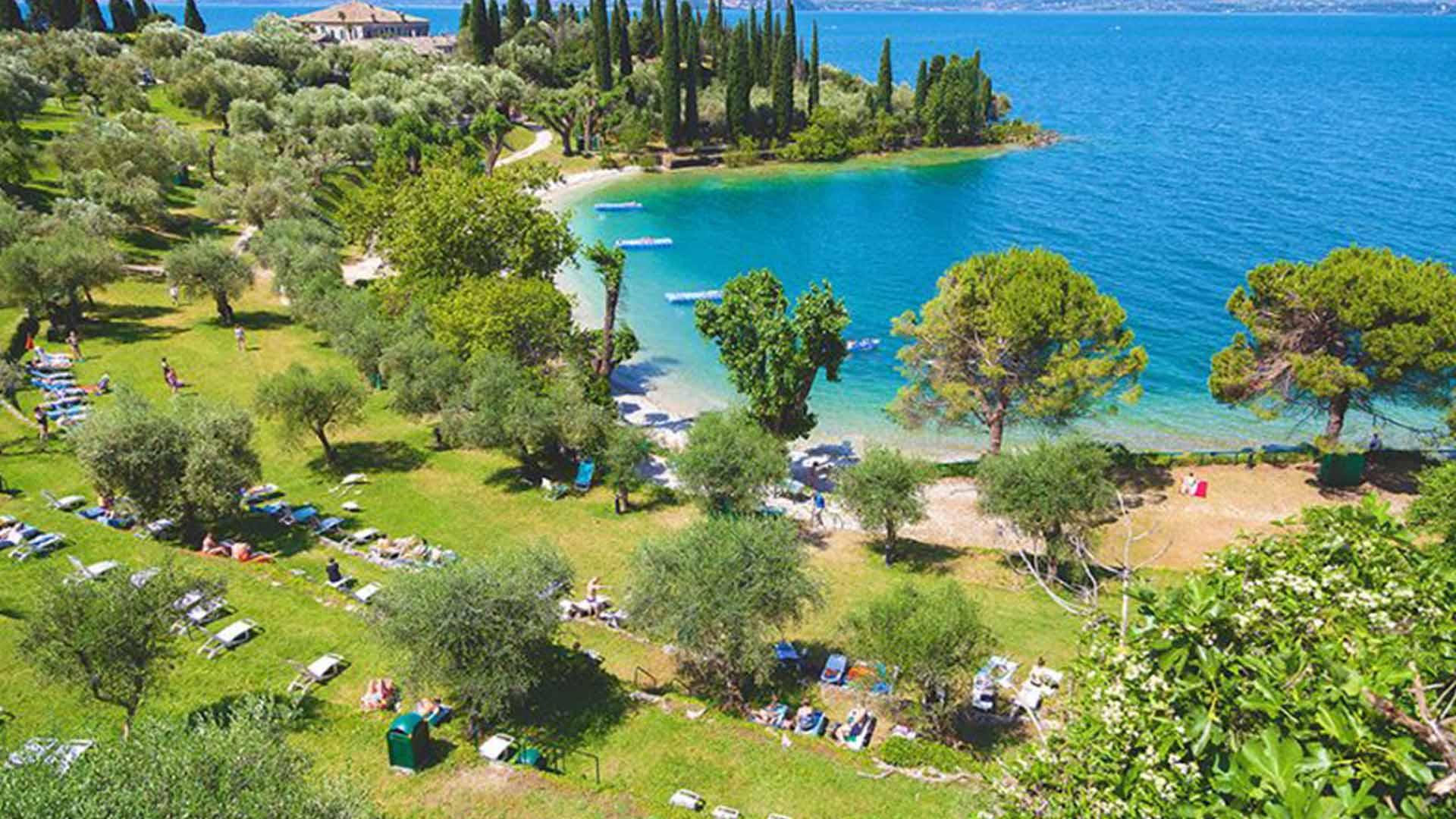 3. Spiaggia Baitone
Quiet, wild and hidden, a beach with white pebble and crystal clear water. Baitone is surely one of the most beautiful beaches of our coast and it is reachable through a pathway located near the end of Malcesine's bike road. If you want to spend your day at the lake in a more isolated and natural place this is the right beach for you.
4. Spiaggia Baia Azzurra
We move towards Trentino: located in Torbole, near to the mouth of the Sarca river, Baia Azzurra is one of the most beautiful beaches of the north coast of the lake.
This white gravel beache has a spectacular landscape: the lake is surrounded by tall mountains that seem to close on the horizon.
A very well-kept area, also reachable by bike thanks to the practical bike road. Although, a few minutes away, you can find restaurands, supermarkets and various services for families and sport activities such as sailing and surfing.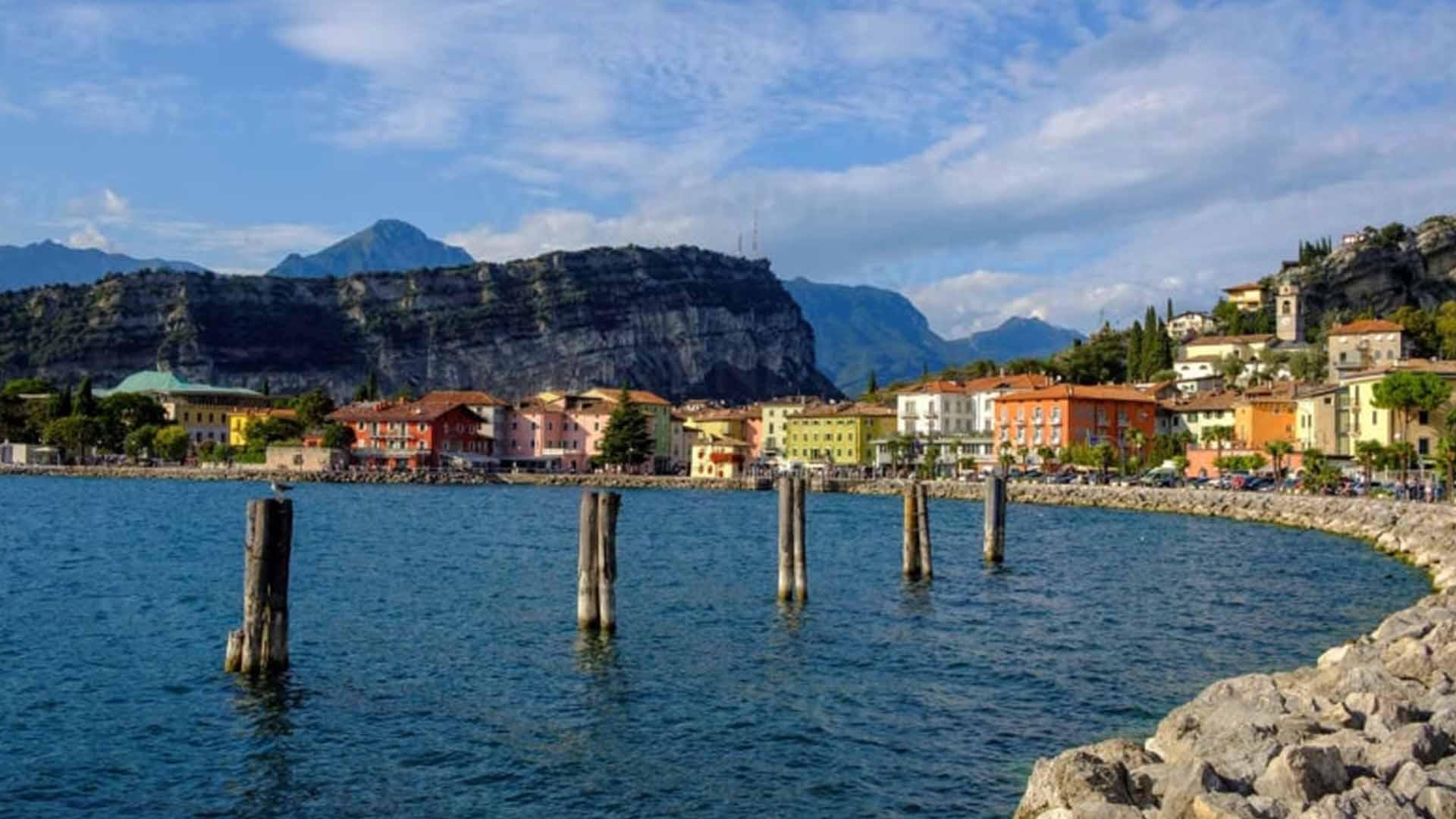 5. Spiaggia dei Pini
Even further you'll find Spiaggia dei Pini, in Riva del Garda. A perfect place for leisure and picnics, thanks to it's wide stretch of grass that surrounds the lake side and overlooks a beautiful landscape you can admire either under the sun or under the shade of it's ornamental plants.
Spiaggia dei Pini is a clean place that offers many activities such as kayak, sailing and surfing, stands, hikes and a bike road that escorts the shores of the lake from Torbole to Riva.

This is the perfect beach for families, also the ones with four-legged friends!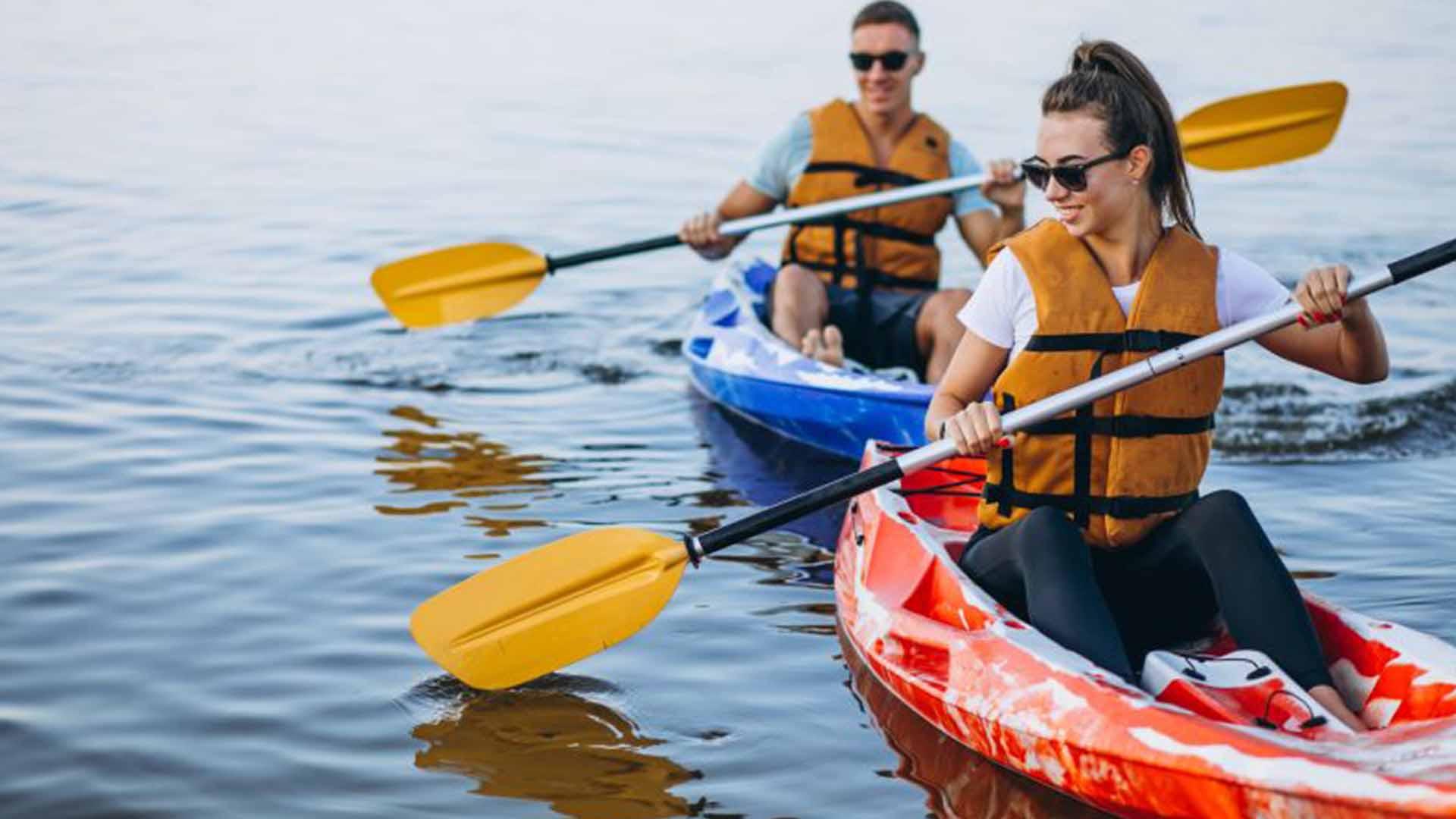 6. Baia del Vento
Encompassing the lake or crossing it with a ferry, we can visit the beaches in Lombardy.

Right in front of us, in San Felice del Benaco, we can find Baia del Vento beach, a super equipped paying beach where you'll be able to rent sunbeds and umbrellas, but also other equipment such as canoes, cycling boats and paddles.

And if you get hungry, on the beach there is a restaurant specialised in pizza, mediterranean and fish cousine, also with vegan, vegetarian and gluten-free options. A perfect spot in which have an informal dinner with your family or a funny aperitif with your friends.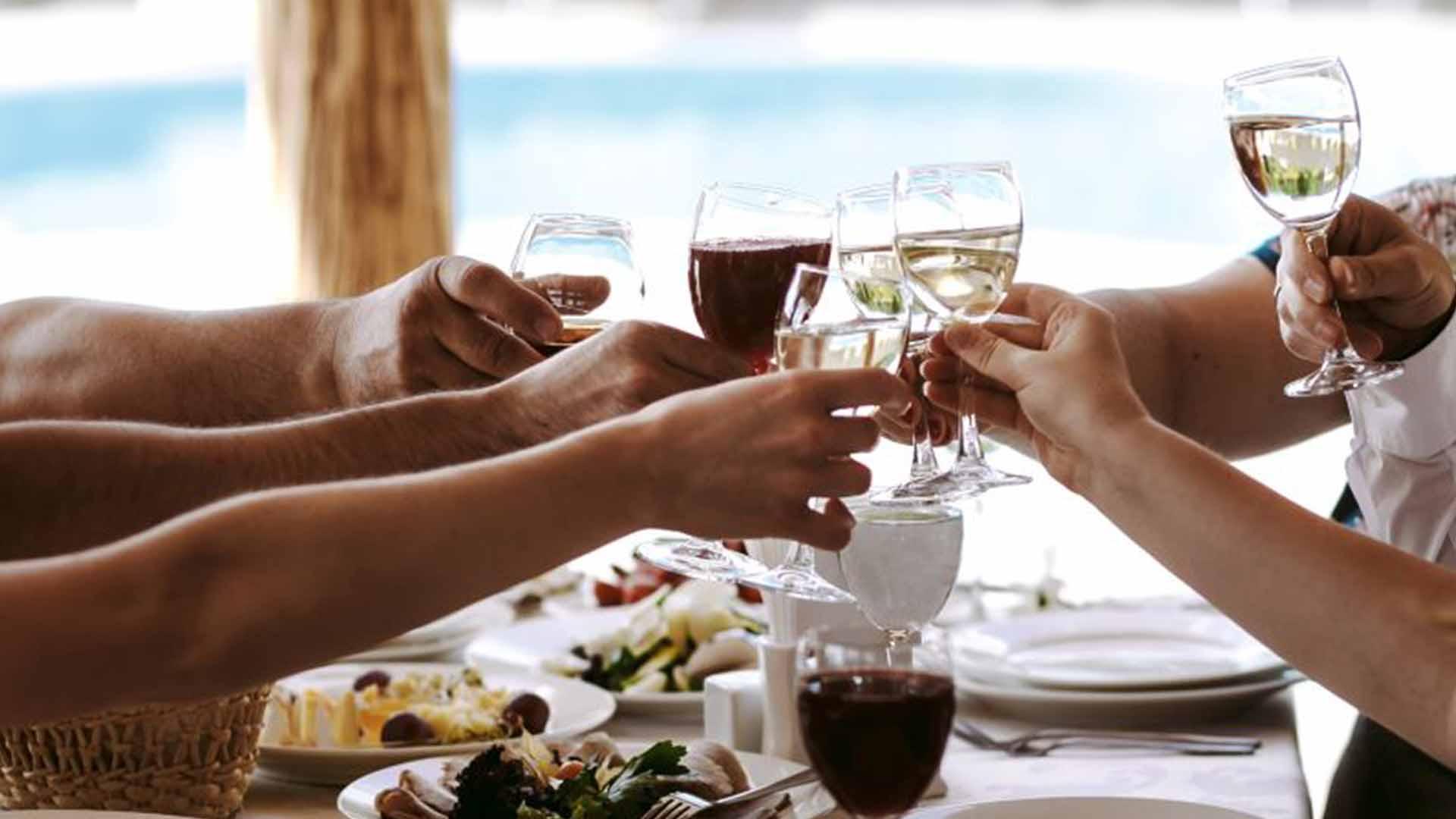 7. Spiaggia Pisenze
Another beautiful beach is Pisenze, located between Isola dei Conigli and Rocca di Manerba.
Pisenza beach is reachable through a practical paved path that brings to a car parking, from which it is possible to take other routes that cross the Parco Naturale della Rocca.
We advice to go along Pisenze's beach until Punta di Belvedere to enjoy a breath-taking view!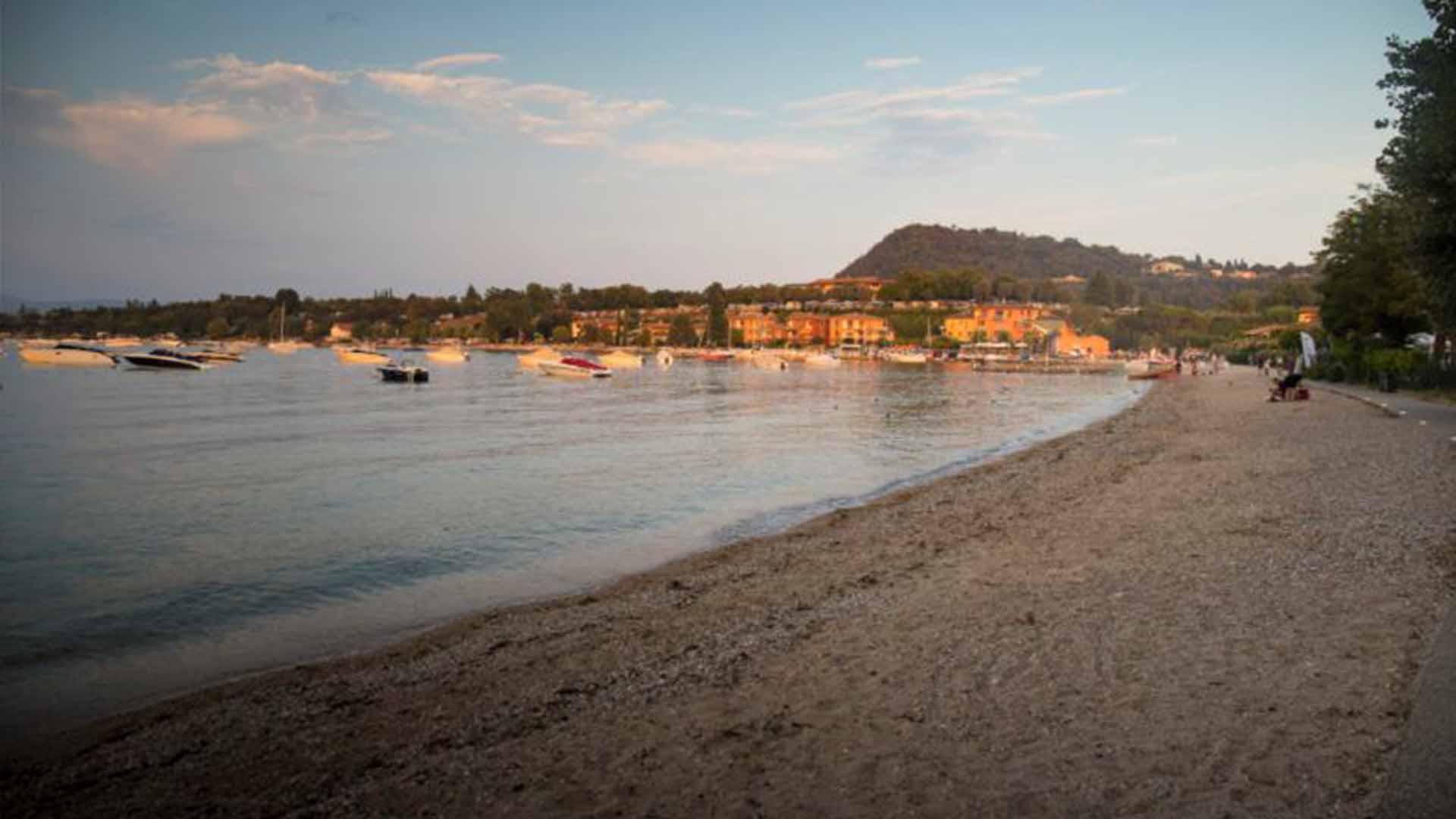 8. Jamaica Beach
We end our tour on the top of Sirmione, where Jamaica Beach is located.
You must be wondering about the reason of its name: well, the landscape looks very similar to one of those white jamaican beaches.
However, be careful! We strongly advice you to bring your water shoes with you. The beach, in fact, is not made of sand but of flat, wide, stretches of cliff, at the end of which you can finally dive and swim.
In the first part of the beach you will find some dining areas, with a bar, a bathroom, changing rooms and lots of music!
But instead, if you are in the mood of a more quiet day we suggest you to go along the shores in order to find they're hidden, natural and isolated spots.